Welcome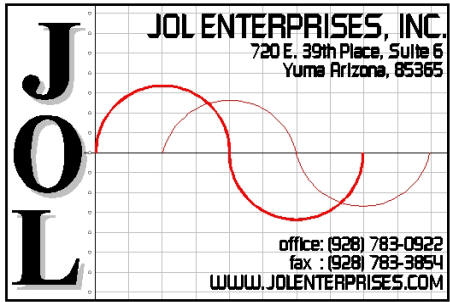 JOL Enterprises, Inc. is an M.E.P. Electrical Engineering and Consulting firm located in Yuma, Arizona.
We serve the electrical construction industry in Yuma, western Arizona
including Kingman, Lake Havasu City, and Bullhead City, and
southeast California, including El Centro, Blythe, and the Imperial Valley.
The firm's President is James Adler. Mr. Adler is a professional electrical engineer and is
registered in the states of Arizona and California. The firm is Yuma's original electrical
engineering firm. It was founded in 1993 by Al Jolley who retired in 1999.
Our specialty is building electrical systems design. We work with architects, engineers,
contractors and owners to provide quality building designs. We also design RV parks,
sports field lighting, roadway lighting, and other electrical systems.
We design alternative energy systems including grid-tie solar photovoltaic systems for
residential and commercial projects. For information, click this link.
Gila City L.L.C. is now open for business. Gila City is leasing light industrial office, shop,
and secure storage space at our new building adjacent to Yuma International Airport and
the Marine Corps Air Station, Yuma. For details and information, click this link.
We have no immediate job openings but we are always accepting resumes for applicants
interested in office assistant, clerical, electrical engineer, designer, or CAD positions at our
Yuma, AZ office.
To learn more about us, click any item on our menu. If you have comments or questions,
let us know by clicking Contact Us. Thanks for visiting and be sure to check back often for
updated information.